Call us for your free quote and ask us
how you can save 10% off in your monthly bill.
Best commercial residential handyman maintenance renovation professionals
in McAllen, TX
Looking for Deck Construction Services near McAllen TX? How Much Does It Cost to Build a Deck? new wood deck. Deck Contractors Near Me? Call Handyman McAllen! As McAllen TX`s most experienced deck builders, we've been offering new deck construction and deck remodel services in the greater McAllen TX area since 2016.
MCALLEN TX DECK BUILDERS DECK CONSTRUCTION COMPANIES
As an accredited contractor, we are qualified to build your deck with the highest level of industry standards and provide that special design to make each project a true masterpiece.
We also offer a large variety of materials to choose from including: Trex, Pressure Treated Wood, Western Cedar, IPE Hardwood, PVC, Cedar, Mahogany, Gorilla Decking, Deckorators, as well as other decking product options.
CUSTOM DECKS MCALLEN TX
Handyman McAllen offers deck installation services to match your exact specifications. Our custom designed decks will accommodate your aesthetic, your budget, and your needs.
ELEVATED DECKS MCALLEN TX
With Handyman McAllen, you can construct your dream deck at any elevation you need. Create an elevated space the you can walk out to from your second story living room or bed room and enjoy a stunning view. Make the most use of your space by creating another level above your garden or patio.
Most importantly, our decks are built to be sturdy and long lasting, while still looking beautiful. Our seasoned contractors have a track record of creating the best materials to make the safest constructions available.
POOL DECKS MCALLEN TX
Is there anything more appealing than taking a dip in your own pool on a hot summer day? With help from Handyman McAllen's experienced and knowledgeable contractors, you can have a stylish deck that will compliment your pool as well stand up to continuous use. Handyman McAllen will help you choose the right material that will stand up to moisture and sunlight, while still looking fabulous.
ROOFTOP DECKS
Make the best use of your space with a Handyman McAllen built rooftop deck. Make the most best use of a boring and uninviting space by turning it into a beautiful terrace that looks out over the city. Use your newly reclaimed roof to host event, look out over a stunning view, or simply find a moment of peace from all of the bustle down below.
A Handyman McAllen constructed rooftop deck is both practical and beautiful. You won't believe the transformation.
WATER VIEW DECKS
Enjoy a stunning view of the water while relaxing in the comfort of your own Handyman McAllen constructed deck. Our contractors will help you choose the right material to both impress and withstand the test of time in a waterside climate. Your waterside deck will resist fading, splintering and weathering from moisture, sun, and salt in a way that no other deck can.
DECK RAILINGS MCALLEN TX
With Handyman McAllen, you can construct your dream deck at any elevation you need. Create an elevated space the you can walk out to from your second story living room or bed room and enjoy a stunning view. Make the most use of your space by creating another level above your garden or patio.
Most importantly, our decks are built to be sturdy and long lasting, while still looking beautiful. Our seasoned contractors have a track record of creating the best materials to make the safest constructions available.
TRELLISES
Beautify your yard with shade and appeal by adding a custom trellis.
PAVORS AND MASONRY MCALLEN TX
Did you know that Handyman McAllen also offers high quality Pavors and Masonry work? with Handyman McAllen you can create something that is timelessly beautiful and long-lasting.
EXTENSIONS AND ENCLOSURES MCALLEN TX
With Handyman McAllen, you can build a space that perfectly matches your tastes with access to all of the benefits of the outdoors. Experience the best that the outdoors has to offer while still being protected from the elements. Enjoy hosting events in the atmosphere of the outdoors without having to worry about the harsh sun or rain ruining your fun.
STUCCO MCALLEN TX
Improve the look of your house with added insulation and a custom look which will enhance the value of your house.
CURVED DECKS MCALLEN TX
With Handyman McAllen Home Improvement, we do custom unique curved trex decks! See some of the images below and give us a call for a free estimate.
NEW DECK CONSTRUCTION MCALLEN TX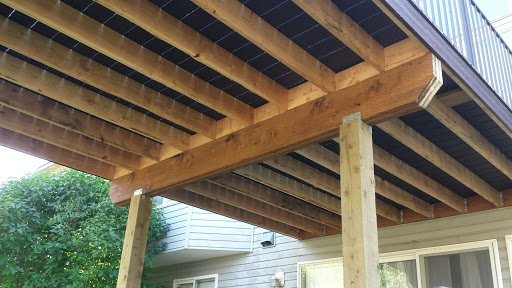 Looking to get more enjoyment out of being a home-owner?  Adding a new deck to your property is a fantastic way to enjoy more quality time outdoors, and expand your living space. At Handyman McAllen Construction, we specialize in constructing new decks that are custom built to function as a seamless extension of your existing home.
Using a wide range of durable, quality materials, we offer deck solutions that are beautifully designed, long-lasting, safe, and easy to maintain.  We work closely with you in choosing the right combination of materials and finishes to ensure that all of your standards for appearance and functionality are met.
Built for a variety of purposes, our decks stand the test of time, and are designed to accommodate a variety of different uses including outdoor dining, grilling, parties, and of course, relaxation.  After we've completed your project in a timely manner, you can immediately begin to enjoy the benefits of your deck addition, and take advantage of your added space for years to come.
DECK REMODEL MCALLEN TX
You don't have to tolerate rotted decking, wobbly handrails, or missing balusters any longer! We've worked with many home-owners over the years in safely removing their existing deck, and replacing it with a gorgeous, code-compliant solution that breathes life back into their property.
By taking advantage of our wood and composite material selections, your redesigned deck will tie in wonderfully with your existing home, helping you forget that its rotten predecessor was ever there. In addition to new materials, we can also add new features to your deck replacement, such as pergolas, fireplaces, custom stair landings, screens, and more.
When it comes to remodeling your deck, we respect your desire to have this process executed quickly and safely in order to avoid disruptions to your daily routine as much as possible. Rest assured that your satisfaction is our top priority, and we will make every effort to accommodate your needs throughout the build process.
Get in touch with us today for a free remodel estimate, and regain your lost living space
SCREENED DECKS MCALLEN TX
If you're a resident of McAllen TX, you're certainly no stranger to our worst summertime nuisance – mosquitoes. These pests (and many other summertime critters) can prove to be quite menacing when it comes to getting the most enjoyment out of your deck.
To combat this problem, we offer screened deck solutions that give you the best of both worlds, which is a functional outdoor living space without the outdoor pests. The mesh screens we use are see-through, allowing fresh air, warm breezes, and sunlight in, while keeping unwanted insects out.
The advantages to having a screened deck don't stop there, either. Adding screens reduces exposure to the sun, for both you and your patio furniture. Also, while our mesh-screens are see-through, they still add an extra layer of privacy to your deck. And most importantly, going with a screened deck will greatly extend the deck's usability throughout the year (especially with the addition of custom features like a fireplace or ceiling fans).
Check out our Projects page to see some of our latest screened deck builds.
FENCING MCALLEN TX
In addition to decks, another service we offer is fence construction. Our fencing solutions are built with the same quality and craftsmanship that we put into our decks, with a heightened focus on longevity and durability.
Adding a fence to your property can achieve several goals, including added privacy, improved safety and security, and increased property value. But we also believe that a well designed fence can be more than a functional addition to your yard, but also a visually appealing feature of your home's exterior.
Have a custom design in mind? We're happy to take on custom projects. Contact us today for a free fence build estimate.
OTHER EXTERIOR IMPROVEMENTS MCALLEN TX
Sometimes it's the little things that matter, and that certainly rings true when it comes to your home's exterior appearance. In addition to decks and fencing, we offer a variety of exterior improvement services that give your home that custom charm you've always wanted. These decorative exterior additions include: porch columns and handrails, window shutters, pergolas, awnings, and more.
WOOD DECKING
When deciding whether to use wood or composite decking for your new deck, there are many pros/cons to weigh for each. Wood decking materials are generally more cost-effective than their composite counterparts, and wood also offers a more natural appearance which may better suit your home. You should also consider the fact that wood generally requires a bit more maintenance over the life of your deck. While treated, sanded cedar, and redwood are our most common options, don't hesitate to reach out to us if you have interest in any other custom materials.
Treated
If you're drawn to the look of a wood deck, and longevity is your top priority, treated lumber is the way to go. Due to a special chemical treatment, this lumber effectively resists water over time, preventing your deck from being afflicted by rot. Another added benefit of the treatment is that it repels insects (like termites) that can cause significant damage over time, limiting your maintenance and replacement costs. And, speaking of costs, treated lumber is generally a more budget-friendly choice as compared to cedar and redwood.
Sanded Cedar
There are many benefits of cedar decking that make it an outstanding material to use for deck construction. In addition to its eye-catching appearance, cedar is also naturally resistant to rot, insects, and water (due to oils in the wood), meaning you'll get more life out of your deck as compared to some materials. Cedar also ages gracefully, turning a wonderful color over time, which provides an added benefit of not needing to regularly apply stains. And of course, who can resist that unique, cedar aroma?
Redwood
Redwood decking is chosen by many due to its charming, red color, which can add a slightly rustic appearance to your home's exterior. Over time, its natural color changes to a gorgeous silver/grey, but if you want to maintain its red color, an annual coat of waterproofing sealant can extend its original appearance. Redwood is considered a long-lasting, budget-friendly material as compared to other outdoor building materials, and, like cedar, it naturally repels damage causing insects (like termites).
COMPOSITE DECKING
If longevity and low-maintenance are your top priorities when selecting your decking material, composite would be your best choice. Composite decking is a manmade product, consisting of wood particles and recycled plastic. This combination of wood and plastic leads to a very strong and durable material, that will not split, crack, or warp. It also requires minimal upkeep as compared to wood, although costs are typically higher. Read about our three most common composite options below, and feel free to contact us with any questions!
If you've decided on composite decking, but you're on a tight-budget, you should strongly consider Moisture Shield. With this budget-friendly option, you'll still get all of the perks of composite decking, including stain, fade, mold, and scratch resistance. A unique feature of this material is that it can be installed in very wet areas (such as around pools/hot-tubs), without voiding its warranties, which range from a 20-Year Limited Warranty, up to a Transferable Limited Lifetime Warranty, depending on your specific product selection.
Geo Deck
In addition to the standard benefits of composite decking, Geo Deck offers a special "tongue and groove" installation, which eliminates gaps in between individual decking boards. Geo Deck is fade-resistant, environmentally responsible, and easy to keep clean. Its hollow design also makes it weigh up to 30% less than comparable decking. Their product line comes with a 20-Year Limited Warranty, and is available in three colors: Cedar, Driftwood, and Mahogany.
Timber Tech
Timber Tech, which is generally more expensive than other composites, offers a variety of premium products in its decking line, allowing you to choose custom styles and finishes that will truly make your new deck an extension of your home. Their full line carries a 25-Year Limited Warranty, and some products even have an added 30-Year Fade & Stain warranty. Another feature of TimberTech decking is that it utilizes hidden fasteners for installation, meaning there won't be any screws visible on the surface of your deck, creating a smooth, clean look.
HANDRAIL & BALUSTERS MCALLEN TX
While the decking you choose is very important, the handrail and baluster selections you make can have a profound impact on the look and feel of your finished deck. We offer a variety of wood, composite, and aluminum combinations that can give your finished project the custom appearance you've always wanted, without breaking the bank.
FREQUENTLY ASKED QUESTIONS
Deck Construction: FAQ
If you've been considering building the deck of the dreams for years and years, now could be a great time to finally break ground. In the Pacific Northwest, where we're not bothered by a bit of damp weather, your deck will be a place for you to fire up the barbecue all year long, whether rain or shine.
When considering how to go about building your dream deck, there inevitably will be a few questions that arise. Here's a look at some of those questions that might come up while planning it out.
Do I have to use pressure treated wood?
While pressure treated wood is a popular choice for a number of reasons, it certainly isn't the only way to go. Pressure treated wood tends to come from a type of yellow pine, which has a tendency to splinter if not treated. When it comes to natural wood, common choices include cedar, as well as redwood.
What kind of maintenance will I need to do on my deck?
A deck is a relatively low maintenance addition. Common maintenance duties are really only required once or twice a year, even in the Pacific Northwest's drizzly climate. You'll want to periodically wash your deck to remove algaic buildup. After washing, it's often a good idea to apply a sealant.
What do I do about damaged or split wood on my deck?
This largely depends on how handy you are. If you wouldn't consider yourself to be much of a woodworker, you might choose instead to call in a professional decking company to take care of the repairs.
Can the deck design be customized to fit a unique layout?
Yes, a reputable deck company will be able to customize your deck in a way that ensures that you get exactly what you want. Whether multi-level or small and basic, it can be made to fit in seemingly challenging circumstances.
If you're considering building a deck, be sure to get in touch with a reputable company. For deck construction in McAllen TX, the experts to contact are at Handyman McAllen. Go ahead and give Handyman McAllen a call today!
COST OF DECK COSNTRUCTION
COST TO BUILD OR REPLACE A DECK MCALLEN TX
If you're building a new deck or are planning to replace your existing one, it's likely that your most pressing question is "how much does it cost to build a deck?" While there are too many variables to make this an easy question to answer, there are still some basic starting points to help determine a budget. Although the costs for labor and deck installation can vary from contractor to contractor (and vary widely by region), you can still get a rough estimate for the amount of materials you'll need to build your new deck.
How Much Does It Cost To Build A Deck On Average?
The average cost to build a deck mostly depends on material selection, but it also depends on the quality of that material. Regardless of which decking materials you are considering, it's most accurate to look at your project on a per square foot basis.
Average Costs to Build a Deck: Materials Only
A wood deck with wood railing will cost between $15-$20 per SqFt
A composite deck with composite railing will cost between $20-$35 per SqFt
The above numbers include national averages for:
A wood substructure
Decking materials
Concrete for footers
Permitting
Railing Materials
To clarify further what these numbers mean, we are comparing pressure treated lumber and a mid-range composite decking and railing combo. As with any project, should you choose an exotic hardwood (such as Ipe) or more design-forward railings (such as Cable Railing or Trex Rod Rail) these numbers will change quite a bit. It's also important to remember that multi-level decks, decks with long stair runs and landings, as well as those with more complex designs might affect your materials costs significantly.
Other Cost Factors to Consider When Building a Deck
Other key factors to consider when building your deck include:
Height of your planned structure and design choices related to the structural posts
Site variables, such as slope and deck height
The type of materials you plan to use and how much they cost within your particular region of the country
How Hiring a Professional Contractor May Impact the Cost to Build Your Deck
These estimates are good general ballparks for the DIY'er. However, building a deck requires a certain level of skill and not everyone is capable. Hiring a licensed professional has many advantages, and tapping into a pro's experience can lead to a better overall experience for some consumers.
Building a deck using-pressure treated lumber can be faster and more efficient for an experienced builder for several reasons. Since the material itself is less expensive, waste isn't as big of a concern. Typically, wood decks are built using fasteners that are visible, and often faster and easier to install.
On the other hand, composites are a higher end material and waste is a bigger concern. And since these materials are more expensive (and often feature better aesthetics) most consumers select "hidden" fasteners that hold the boards by grooves in the sides. This can be a bit more time consuming to install and can affect the installation labor costs.
In general terms, you can add about $8-$22 per SqFt for the labor to build a deck.
Consider the Cost of Maintenance and Ownership Over Time
One critical consideration to keep in mind when estimating costs is your ownership horizon. If you plan to stay in your home for a short time, up-front decking costs should be weighed more heavily. However, as you try to decide between low-maintenance products (such as composite or PVC decking) and pressure treated lumber, you have to consider the accumulation of maintenance costs over time.
In most markets pressure-treated lumber needs to be sanded and stained about once every two years. Hiring a professional to do this can make the payback time on low-maintenance materials as short as two years for lower-end material and up to 10 years for the premium selections from most decking manufacturers. Additionally, pressure treated wood starts to degrade as soon as it's installed while most low-maintenance products carry fade and stain warranties that can span decades.
Alamo TX Deck Construction Services Near Me
Alton TX Deck Construction Services Near Me
Brownsville TX Deck Construction Services Near Me
Donna TX Deck Construction Services Near Me
Edcouch TX Deck Construction Services Near Me
Edinburg TX Deck Construction Services Near Me
Elsa TX Deck Construction Services Near Me
Granjeno TX Deck Construction Services Near Me
Harlingen TX Deck Construction Services Near Me
Hidalgo TX Deck Construction Services Near Me
La Joya TX Deck Construction Services Near Me
La Villa TX Deck Construction Services Near Me
McAllen TX Deck Construction Services Near Me
Mercedes TX Deck Construction Services Near Me
Mission TX Deck Construction Services Near Me
Rio Grande City TX Deck Construction Services Near Me
Raymondville TX Deck Construction Services Near Me
Palmhurst TX Deck Construction Services Near Me
Palmview TX Deck Construction Services Near Me
Penitas TX Deck Construction Services Near Me
Pharr TX Deck Construction Services Near Me
Progreso TX Deck Construction Services Near Me
Progreso Lakes TX Deck Construction Services Near Me
San Juan TX Deck Construction Services Near Me
Sullivan City TX Deck Construction Services Near Me
Weslaco TX Deck Construction Services Near Me​
HANDYMAN MCALLEN
REQUEST FREE INFORMATION NOW. CLICK HERE!