Call us for your free quote and ask us
how you can save 10% off in your monthly bill.
Best commercial residential handyman maintenance renovation professionals
in McAllen, TX
Best Handyman McAllen: Residential Home Repairs, Handyman & Maintenance Projects near McAllen? Call Handyman McAllen! From changing out light bulbs to replacing damaged sections of siding and repairing drywall, Handyman McAllen delivers quality, professional Handyman and home improvement services! Best commercial residential handyman in Omaha McAllen, Texas. Free estimates. 24 hour handyman services!
HANDYMAN HOME IMPROVEMENTS, REPAIRS AND REMODELING PROJECTS IN MCALLEN, TX 78541
McAllen Handyman, Repairs & Home Maintenance
When things start falling apart or you're tired of looking at that outdated light fixture, call Handyman McAllen. Our employee Craftsmen will help you tackle your home repairs and handyman projects; siding, deck or fence repair, updating plumbing and electrical fixtures, replacing garbage disposals, cleaning your gutters and more — click HERE for a more detailed list of handyman and home repair projects we can help with.​
Are you in need of some home repair, maintenance or handyman work? Our certified, employee craftsman have a wide range of skills when it comes to home improvements and remodeling. For a detailed list of home projects we can help with click HERE     or scroll through some of our project photos below and click on the flyer.
Examples of Home Projects:
Accessibility Modifications
Grab Bar & Safety Rail Installation
Wheelchair Ramp Installation
Door Widening
Step-in Tub Cut Installation
Kitchen Enhancements
Pull-out Shelves
Under Cabinet Lighting
Tile Backsplash
Install New Faucets
Replace Garbage Disposal
Tile & LVT Flooring Installation
Drywall Repair
Light Fixture Replacement
Ceiling Fan Installation
Assemble Furniture
Hang Art Work
Caulking
Door Repair
Siding Repair
Fence Repair
Gutter Cleaning
Weather Stripping Installation
Bathroom Remodeling McAllen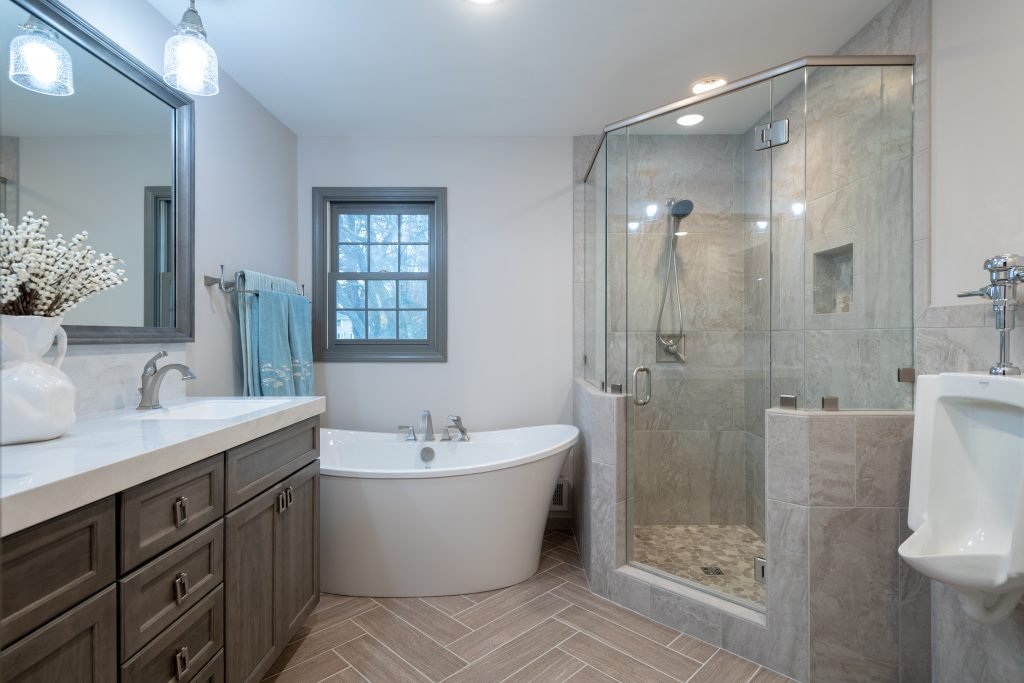 Whatever you're wanting to do, Handyman McAllen can help with your bathroom remodeling projects. From completely gutting your bathroom and installing all new or simply adding some updates and/or safety modifications, our certified, employee craftsmen will do it right. Handyman McAllen pride ourselves on doing it right. 
Quality craftsmanship mixed with integrity means you can be certain that what's been installed behind your walls has been done correctly and follows code regulations. We know how hard it can be to find someone you trust to turn your bathroom into a beautiful place to relax and unwind. Rest assured; you can trust us!
D.I.Y. Do-It-Yourself Help Projects Help McAllen
Do you have a project you're struggling to finish – or start?! Handyman McAllen offer what we call "DIY with Help". Our certified, employee craftsmen can show/help you complete your projects and work alongside you (example: if you're laying tile and need help with the cuts), or they can take over where you left off and complete your project for you.
It's okay to ask for help if you don't know how to do something. . . and even if you do know how, sometimes we still need a bit of help.
Handyman McAllen' "DIY with Help" allows our clients to be as involved as they want to be with their home projects. Our certified, employee craftsmen can pick up where you left off on a project or they can work alongside you to provide assistance and guidance on the proper way to complete your project(s).
Do you have a project you've been wanting to tackle but don't know how or where to start? Call on our "DIY with Help" experts today (956) 587-3488!
Handyman Services McAllen
Handyman McAllen performs the following handyman services. Contact us via the web or call (956) 587-3488 for a free quote or if you have any questions about the handyman and energy upgrade services we provide.
Residential Handyman Services:
Door Handle / Lock Replacement
Shelving Installation
Re-caulk / Re-grout Tile
Painting
Disposer Installation
Smoke/CO detector install or battery replacement
New Faucet Installation
Toilet Clogs, Leaks and Installations
Gutter Cleaning and Leak Checks
Stopped-up or clogged Sinks and Showers
Preventative or clogged lint in clothes dryer lines
Pressure Washing
Deck repairs
Siding repairs
Fence repairs
Repairs after a Home Inspection Report
Drywall Repair / Texture Touch-ups
Baseboard installation or repairs
Door and Window Molding installation or repairs
Interior door replacement
Squeaky floor fixes
Storm door installations
Energy Upgrades:
Low Flow Toilet Replacement
Low Flow Shower Heads
Dimmer Switches
CFL Bulb Replacement / LED retro-fits
Hot water heater age/evaluation of condition
Gas vs. Electric Stove Evaluation for energy savings
Attic Insulation Evaluation
Insulation of exterior outlets and switches to reduce air leaks
Window Evaluation
Water Leak Detection / Prevention
No VOC (Volatile Organic Compounds) / Low Odor painting
Ceiling Fan Check for best energy savings
Energy Star/Energy Efficient Installation of All Household Appliances (We have a GREAT selection!)
Programmable Thermostat Installation and Evaluation of current settings
PROPERTY MANAGEMENT REPAIRS MCALLEN
Handyman McAllen offers Property Management. For emergency repairs, Handyman McAllen is the go-to handyman of choice. Handyman McAllen understands budget minded property management. You can feel confident that his qualified property management skills and repairs will be handled in efficiently.
Affordable Bathroom Makeovers McAllen
You don't have to break the bank on a bathroom makeover. In fact, simple changes can increase property values and keep your bathroom remodel under budget. Clean lines and timeless hard surfaces are important factors when considering updating your bath.
Garage Door Repairs McAllen: Stuck in the garage?
Use Handyman McAllen for emergencies like this. "It's always something you can fit in your schedule," says E. He replaces doors and tension springs.
Window Repair Handyman, also for Rental Property Management McAllen
Handyman McAllen can save you money when it comes to a window repair vs. window replacement. "Not all windows need to be replaced," says Handyman McAllen.  "There may be some other energy saving routes we can introduce to your home." –
Home Modifications for Seniors in McAllen
 In terms of home repairs and improvements in the homes of seniors, Handyman McAllen can make the changes that are required to make their home less demanding to move. He begins with an in-home evaluation and can introduce wheelchair slopes, redesign bathrooms to suit the elderly and impaired.
Handyman McAllen has over 25 years of experience! Handyman McAllen is the master expert in repairs and remodeling. He has a long list of satisfied customers that continue to contact him for all their remodeling projects and repairs.
Carpentry & Trim Work McAllen
Whether extending the life of your current project or adding a new cabinetry and details, Handyman McAllen is a perfect fit for your project. There is not a corner that he can't miter nor a crown he can't stack!
Sliding & Exterior Door Repairs
You can have Handyman McAllen pick up a front door for you or have him install one you have purchased. He also replaces torn screens & repairs sliding door tracks.
We are a Handyman Service who can help you with your remodeling projects, gutter cleaning and building maintenance. Since 2019, we have been servicing McAllen and the surrounding Nebraska areas.
HANDYMAN SERVICES IN MCALLEN, TX
With so many things to do around the house sometimes it is nice to have a professional handyman help you out. Whether it is fixing some leaking plumbing, remodeling, repairing your siding, building maintenance, deck repairs, garage door opener installation, or even helping you hang pictures or any other small job around the house that needs immediate attention.
GUTTER CLEANING & REPAIR MCALLEN
Handyman McAllen is experts when it comes to gutter cleaning and gutter repairs. Because gutters are so important to your homes maintenance, it is important to make sure they are cleaned regularly so they function correctly.
Keeping your home's gutters clear of debris and animal nests can be quite a challenge if you don't have the right protection. Luckily, Handyman McAllen offers one of the best gutter covers on the market to keep your gutters running smoothly and minimizing an overflow of water from ruining the infrastructure and foundation of your home. Learn more about the gutter covers we offer
SOME OF OUR MANY SERVICES:
basic plumbing • toilet repairs and replacements • leaky faucets • replacement faucets • grouting • caulking • deck repairs • small woodworking • door installation and trim work • fence repairs • picture hanging, • small home repair jobs • siding repairs • building maintenance • screen door installation • pressure washing • floor repairs
Handyman McAllen is a qualified handyman and with our many years of experience you will not be disappointed or overcharged for our work. Give us a call at (956) 587-3488!
Handyman Services near McAllen, TX
Do you need a handyman? Handyman McAllen are experts in many home repairs. We have been providing handyman services throughout McAllen since 2019 and we take pride in being reliable, honest handymen that you can count on to fix your home problems and keep it affordable.
With so many things to do around the house sometimes it is nice to have a professional handyman help you out. Whether it is fixing some leaking plumbing, remodeling, repairing your siding, building maintenance, deck repairs, or even helping you hang pictures or any other small job around the house that needs immediate attention.
Handyman McAllen is a qualified handyman and with our many years of experience you will not be disappointed or overcharged for our work. Give us a call at (956) 587-3488!
MCALLEN`S FAVORITE HANDYMAN: OUR SERVICES
The handyman/handyperson is the "jack (or jill) of all trades" of the contracting world.  We can often do everything on our clients' list of jobs, and complete all aspects of a project.
​Handyman McAllen provides a wide variety of home repair and improvement services for single family, owner-occupied homes, specializing in small to medium projects and accumulated "to-do" lists.
​If our clients need work done that we don't offer, we can often provide advice and referrals to other tradespersons, and even coordinate our work with them.
​Note that we do not service apartments or other rental, business, or commercial properties.
We provide a limited set of services to condominium and duplex homes, or vacant homes being prepared for sale or occupancy by the owner.
Some of our many services:
Exteriors
Seasonal Maintenance
Gutter cleaning
Pressure washing
Skylight cleaning
Installation
Gutter guards
Garage door openers
Screen doors
Repairs & Remodeling
Deck repairs
Small woodworking
Door installation and trim work
Fence repairs
Siding repairs
Interiors
Kitchens & Bathrooms
Grouting
Caulking
Tile
Basic plumbing
Garbage disposals
Toilet repairs
Toilet replacements
Leaky faucets and replacement faucets
Bathtubs
Countertops and vanities
Exhaust fans
Dishwasher replacement
General
Door installation and trim work
Picture hanging
Small home repair jobs
Floor repairs
Windows
Woodwork
Cabinetry
Carpentry
Ceiling Fans
Ceramic Tile
Closet Systems
Termite damage repair
Basements
Here is a categorized list of the projects/jobs that our client most frequently request. You'll also find a list of Work We Don't Do, including Emergency Repairs
Smaller Projects – INTERIOR
Electrical Fixtures – repairs & replacement/upgrades
including lights, ceiling/bath/kitchen fans, garbage disposals
Plumbing Fixtures – repairs & replacement/upgrades:
including faucets, sinks, toilets, shower heads, laundry sinks
Carpentry – cabinets, interior trim, shelving, closets, & more
Drywall – installation & repairs
Interior Painting (usually in conjunction with other work)
Demolition, repairs, & prep work for other tradespeople:
including before/after painters, plumbers, electricians, new flooring, cabinets/countertops, etc
Decks & Porches – railings, re-decking, repairs
Sheds, Fences, & Gates – repairs
Wood Siding & Trim – repairs & replacement
Exterior Painting & Staining (trim & small areas)
Gutter Guard/Screen installation
Seasonal Home Maintenance – gutter cleaning, dryer vent cleanouts, storm windows
REMODELS & BIGGER PROJECTS MCALLEN
Kitchen, Bath, and Basement Remodeling & "Updates"
including installing/replacing cabinets, vanities, sinks, toilets, and some types of showers & tubs
Decks, Screen Porches, and Sheds – construction & repair (12'x12' maximum size, ground level only)
Front Steps/Stoops – replacement & repairs
Doors and Storm Doors – replacement & repairs
Windows – replacement & repairs
Smaller Projects – EXTERIOR
Consulting
​
House Walk-Throughs to identify and prioritize needed repairs
including prior to selling or after purchasing your home
Project-specific consultation
Referrals to other tradespersons
HOW WE CHARGE & ESTIMATE
Over our 25 years of service, we've developed the following financial practices we feel are fair to both our clients and our company and associates:
Time & Material Basis
Our practice is to charge only for  the actual time (labor) and materials we utilize in completing your work, regardless of estimate.  This ensures you pay only for work we perform, not for the amount on the estimate.  This practice also means we don't have to pad our initial estimate to protect ourselves from unexpected conditions or problems we might encounter. See below for more info on our "Ballpark Estimates".
In addition to the time we spend on-site performing the work at your home, the time we invest in your project usually includes:
 Purchasing Materials: we provide materials at our cost, but charge for time spent purchasing materials specifically for your project – including helping you research and select materials when there are multiple options for price, quality, design, appearance, etc.
Travel Time: to and from your jobsite and/or to pickup/deliver materials (including disposal of debris).  Travel time is charged at ½ our hourly rates
Project Coordination:  these fees include time spent meeting clients and doing on-site assessment, planning and estimating the project, client communications, coordinating subcontractors and deliveries, working with building inspectors, etc.  These costs vary by the size and complexity of the project, but a typical range is between 5% and 20% of the on-site labor costs.
Hourly Rates:
Our hourly rates (per handyman/handyperson) range from $30 to $90 per hour depending on the nature of the work and who is doing it.  We charge ½ our hourly rate for travel time.
"Ballpark" Estimates
We can provide "ballpark" estimates for most projects upon request.  By "ballpark", we mean our best estimate of the minimum and maximum costs we would anticipate charging for the project as we understand it.
Our "ballpark" estimates are based on our initial discussions with clients, a brief onsite visual inspection and/or photographs, and our experience with similar past projects.
Our "ballpark" estimates are primarily intended to help our clients with making decisions about whether to proceed with a project, and/or to choose between various project and/or material options.  We then bill for the actual time and materials we use to complete in your project, regardless of estimate.
Our estimates assume we will encounter typical conditions, and that we will use typical methods and materials for the work described.  Any atypical conditions or materials, special methods needed, or additional problems encountered can increase the costs of completing the work.
Whenever practical, we consult with clients before proceeding if we encounter conditions that could increase the costs above our maximum "ballpark" estimates.
Billing, Payment, & Contracts
Our philosophy is if our clients trust us with the care of their homes, we trust that they will pay us fairly and promptly for work that we complete to their satisfaction.
To minimize paperwork, we typically do not require a formal signed contract for most jobs.  Instead, we do our best to document the nature of the work and anticipated costs in our "ballpark" estimates and subsequent email and other communications.  For larger projects, we may execute a  "preconstruction" agreement to cover planning and coordination work completed prior to starting on-site work.
We do not typically require any down payment before starting work on most jobs, and do not require (and don't usually accept) payment before we leave the jobsite.  We will sometimes accept payment on the spot for small jobs.
We encourage clients to inspect our work thoroughly as soon as possible after we complete it (or even while we are working).  Please let us know of any questions or problems you encounter with our work as soon as possible, and we will do our best to correct any problems to your satisfaction.
We typically email your bill within 1-2 weeks after completion of the job.  In return for not expecting payment or deposit in advance, or payment on the spot, we request that our clients pay promptly upon receipt of our bill.
We accept personal checks (or cash).  We do accept credit or debit cards and can accept payment via PayPal or Zelle payment systems with advance notice.
ENERGY EFFICIENT WINDOW & DOOR REPLACEMENT
Depending on the age and style of your home, Infinity offers two window replacement methods. Handyman McAllen Company will help you determine the best solution for your home, including addressing any concerns about water or structural damage. Both methods are designed for maximum efficiency and minimal disruption to your home.
WINDOW INSTALLATION OPTIONS
If you have concerns about water or structural damage, full-frame replacement is the appropriate installation method. During a full-frame installation project, the entire window and trim is removed and replaced. Full-Frame replacement is also used for new window styles or enlarging your existing opening for a bigger view.
 Insert replacement is an efficient approach if your existing window frames are in good condition and you only need to replace your sash and hardware. Our insert solution installs directly into your existing window frame with no disruption to existing trim, interior walls or exterior siding
At the Handyman McAllen Company, our experts are able to install doors that are made of fiberglass. We can add colors that match the tones of the house's siding, and the doors are equipped with seals that prevent cold air from entering the residence
The Benefits of Fiberglass
 Numerous studies have shown that fiberglass is able to withstand more pressure than vinyl or wood. Ultrex® Fiberglass is a pultruded fiberglass material that is strong and durable. Ultrex® Fiberglass is 8x stronger than vinyl and 3.5x stronger than wood/vinyl composites. It is virtually maintenance-free and won't rot, warp, dent, or fade.
 Adding a skylight to your roof can bring more light and energy into any room! Natural light is a fundamental aspect to the quality of our lives and living environment. Light, with its many moods and variations, can help make a house a home. Not only does natural light create an atmosphere, it can positively impact the way we feel about a living space! Handyman McAllen Company has a team of experienced installers and technicians who will assist you with your new skylight installation.
BATHROOM REMODEL: BATH CREATIONS BY HANDYMAN MCALLEN COMPANY
Your bathroom is the first place you go when you wake up and the last place you go before bed, but the design and layout isn't always what you want. You may be missing some crucial amenities, or you may be wondering how to make a small bathroom look bigger. Whatever the case, our Kohler® certified Gurus will take your idea from design to done with KOHLER® Luxstone®.
Our expert bath designers have customized and renovated hundreds of bathrooms in the past few years, and they'd be delighted to discuss your project. Your bathroom should fit your needs and lifestyle.
Low Cost and Low Maintenance Bathroom Solutions
Our exclusive product line, ranging from spa showers to walk-in tubs, is constructed out of the toughest materials – specially designed to withstand the wear and tear of daily bathroom use. Not only will your new bathtub or shower be stunning, but it will also fit seamlessly into your current design and protect your home from harmful water damage. LuxStone shower walls are affixed with hidden joints and trim to ensure there is no difficult grout to maintain. Leaving fewer places for mold to grow and simplifying your cleaning routine.
Roofing Types
Handyman McAllen's steep-slope residential roofs use only the best, made-in-the USA materials. They come in a variety of styles, allowing you to pick the perfect match for your house. Some features of steep-slope roofing include an advanced ventilation system to insulate your attic and keep it dry, as well as ice dam barriers that prevent water from backing up in cold weather. Handyman McAllen holds a Master Elite certification from GAF, the largest roof shingle manufacturer in the USA and the most trusted name in the industry.
Handyman McAllen's low-slope single-ply roofs are strong and well-protected against UV damage and heat-aging. Custom order taper systems prevent water from accumulating and causing long-term damage. We can even add roof ribs to improve your home's appearance. We offer further roof customization including roof railings, a deck system, and custom-made flashing. All of our single-ply roofs are Energy Star certified and made in the USA, helping you keep utility bills low and protect the environment.
Bad weather is no match for our wood shingles and wood shakes. Handyman McAllen uses only top-quality Canadian wood that was specifically designed to prevent rot, as well as underlayments that help the wood dry more efficiently. This leads to a longer life for your roof and fewer repair expenses down the road.
INSULATION SOLUTIONS
While insulation is a sure-fire way to reduce energy costs and make a house more comfortable, many homeowners are not sure if they have enough insulation in place. And some worry that there are places that should be insulated that are not.
Increasing the energy efficiency of your home not only helps the environment by reducing the amount of energy used, it can also save you money by lowering your utility bill. The best way to make your home more energy efficient is to make sure you have enough insulation, such as foam or fiberglass, in your walls and attic.
Guttering Solutions
 Gutters may not always get the best rap, but they provide an important piece of protection for your home or building. In fact, gutters rank among the most important construction or remodeling service for any property. At Handyman McAllen, we install seamless gutters that protect your most crucial resources from flooding, soil erosion, dry rot, siding damage, mold, roof leaks, and foundation cracking. The frequent freezing and thawing cycles, snow melt, icicles, and ice dams in Nebraska only heighten the risk of sustaining structural damage. That is why you want to choose a company.that has the answers when it comes to the essential roles your gutter system performs in safety and property protection.
INNOVATIVE SIDING
Siding is both an aesthetic and functional addition that greatly enhances the resale value of your home. While there are many options when it comes to siding, the professionals at Handyman McAllen Company will have the siding answer that is perfect for your home and family. The types of siding we install include:
Vinyl
Wood
Brick
Stone
Composite
Benefits of Siding
There are many reasons to consider installing new siding on your home or business. Siding enhances the curb appeal of your home and boosts resale value. It requires very little upkeep and provides resistance to wind, water, weather, and impact. Handyman McAllen Company's siding is cost effective and energy efficient, and comes in a variety of colors, styles, and trims.
SERVICES
Handyman McAllen offers a variety of services to address your safety, comfort, and maintenance needs at your home or rental property. Don't see what you need? Just ask!
COMFORT
Energy Efficiency
Weatherstripping
Storm Doors
SAFETY/INDEPENDENT LIVING
Installation of guard and hand rails
Installation of grab bars
Tub/tile non slip coatings
Nurse Call / Medical Alert Systems
Raising of toilet seats
Installing new shower heads
Enhancing lighting fixtures
Test and replace smoke and carbon monoxide detectors
Assembly of more suitable furniture
Replacing cabinet and door handles
Securing furniture to walls
MAINTENANCE
Hang pictures, mirrors, shelves, curtain rods
Furnace filter replacement
Dryer vent cleaning
Repair cracks or holes in walls and ceilings
Minor drywall repair
Trim and moulding installation/repair
Repair and install shelves and storage units
Screen repairs
Fix and replace garbage disposals
Door re-alignment, repair/replace hinges, knob sets
Furniture assembly, including IKEA
Water filter replacement
Change/upgrade light bulbs
Childproofing
Light switches, light fixtures and outlets
Pre & Post Home Inspection Repairs
Vacation Rental Maintenance Services Mcallen
So you've bought a cabin or second home and plan to rent it on AirBnb and VRBO. You've set up your account, furnished your home and secured a cleaning service.  Are you ready to rent?  Well, not quite yet.  Before you go any further, you need to find a reliable handyman.
You really can't overstate the importance of handyman services for your vacation rental. Not only can a handyman help you with setting up your new rental property (hanging pictures, aligning doors, mounting televisions, assembling furniture, etc.), having someone nearby that can handle repair issues that arise for your renters during their stay is critical.
In fact, many insurance companies will classify your property as "unoccupied" unless you have a maintenance person available. Why is this important? It's simple.  Having your vacation rental classified as "unoccupied" can translate to higher insurance premiums and/or outright refusal by many insurance companies to underwrite your property.
Consider these other reasons for having a handyman in your contact list:
Increased property value: A maintained property will hold value or increase in value. The lack of repairs will detract from the property's market value and rental prices.
Satisfied renters: Without reliable maintenance, you will experience negative reviews from renters arriving to find a poorly maintained property, which can all but kill your listing and the profits you had hoped to earn with your vacation rental.
Reduced costs: Having someone available to do repairs can help save money by minimizing risks, extending the life of appliances and equipment, satisfying tenants, and decreasing your manual effort.
Less work: You already have enough to do, not to mention, you may be hundreds of miles away from your vacation rental. By having a handyman nearby, you will reduce the time you spend dealing with repairs.
It's no secret that you need to keep your property maintained to maximize its value. This is where 4 Lakes Handyman can help.
We are now serving the McAllen areas in Nebraska. Call us at (956) 587-3488 or send us an email to discuss your vacation property rental needs.  Happy renting!!
Make Ready Services Mcallen
IF YOU WANT THE BEST VALUE FROM YOUR HOUSE IT NEEDS TO LOOK ITS BEST.
Make Ready Services are available for properties that may need a little cleaning, fixing up, landscaping services or full on repairs and remodeling service before the sale or occupancy of the home.
To obtain the best price for your home or the best tenant possible, a clean, well maintained home is essential. Our extensive experience has shown that work to improve the appeal of your house will result in a higher return on your investment.
We have a proven list of Preferred Service Providers we use on a regular basis as well as an in-house licensed general contracting services available to tackle any project.
If you have a need for Make Ready Services contact us for a no cost estimate.
More information about Make Ready Services Contact Us.
Residential Handyman Services
With each month that passes, does your list of home repairs continue to grow? Do you find yourself wishing there was a fast and affordable home improvement contractor or professional handyman to complete these projects? Handyman McAllen is your solution to those home repairs that keep stacking up. Regardless of whether your list consists of plumbing, electrical, drywall, roofing, window and screen, shelving, deck and railing, or other home improvements, we're the trusted home improvement contractor for you! We provide handyman services to customers located throughout the United States, are available 24 hours a day, and provide FREE ESTIMATES!  See our list of home repair and routine maintenance services below and either call or Book Online Today!
HOME REPAIRS MCALLEN, TEXAS
Routine Maintenance
  – Repair cracks or holes in walls and ceilings          – Clean, repair and caulk gutters
  – Drywall installation and repair                  – Painting and staining
  – Fix and replace garbage disposal            – Furnace filter replacement
  – Door installation and repair       – Clean out duct work and dryer vents
  – Window and screen installation and repair        – Patch cracks in driveway/seal driveways
  – Fix clogged sinks and toilets      – Seasonal work/snow removal, leaf raking, yard work
  – Roof repairs and patching       
  – Caulk interior and exterior     
New Work
  – Deck and railing repair                 – Fence installation
  – Repair and replace wood trim                  – Decks and patios
  – Wall paper removal and installation      – Kitchen cabinet and countertop installation
  – Repair and install shelves and storage units       – All types of flooring repair and replacement
  – Repair and replace automatic garage door openers       – Ceramic wall and floor tile
                  – Sink and toilet installation and repair
Miscellaneous
  – Move heavy items and appliances
  – Hook up appliances/move appliances
  – Assemble furniture/cabinets
  – Install ceiling fans and light fixtures
  – Minor electrical
  – Repair and replace sidewalks
  – Repair and install smoke detectors
  – Dock and pier installation
And Much More
Commercial Handyman Services
Have you contacted your local commercial improvement contractor only to find that they're too busy, or your business is too small for them to service?  Do you have a number of small projects that need to be completed and don't want to contact 4 or 5 contractors to get each job done?  Or, perhaps you have weekly or monthly routine maintenance that needs to be performed.  Handyman McAllen is the commercial improvement company for your business!  We specialize in handyman services for both residential and commercial customers.  We have locations throughout the United States and are available 24 hours a day, so a handyman can be at your business with a simple call or you can Book Online!  See our full list of handyman services below.
Commercial Services
Routine Maintenance
  – Repair cracks or holes in walls and ceilings          – Clean, repair and caulk gutters
  – Repair or replace acoustical ceilings       – Painting and staining
  – Drywall installation and repair                  – Furnace filter replacement
  – Fix and replace garbage disposal            – Clean out duct work
  – Door installation and repair       – Patch cracks in driveway/seal driveways
  – Window and screen installation and repair        – Seasonal work/snow removal, leaf raking
  – Fix clogged sinks and toilets   
  – Roof repairs and patching       
New Work
  – Caulk interior and exterior     
  – Demountable partition installation
  – Repair and replace wood trim                  – Renovate employee kitchens
  – Wall paper removal and installation      – All types of flooring repair and replacement
  – Repair and install shelves and storage units       – Ceramic wall and floor tile
                  – Sink and toilet installation and repair
Miscellaneous
  – Move heavy items and furniture
  – Hook up office equipment
  – Assemble furniture/cabinets
  – Repair light ballasts and light fixtures
  – Light bulb replacement
  – Minor electrical
  – Repair and replace sidewalks
And Much More
BEST HANDYMAN IN MCALLEN, TEXAS HANDYMAN MCALLEN
Handyman McAllen
REQUEST MORE INFORMATION. CONTACT US NOW! OPEN 7 DAYS 7/24!