Call us for your free quote and ask us
how you can save 10% off in your monthly bill.
Best commercial residential handyman maintenance renovation professionals
in McAllen, TX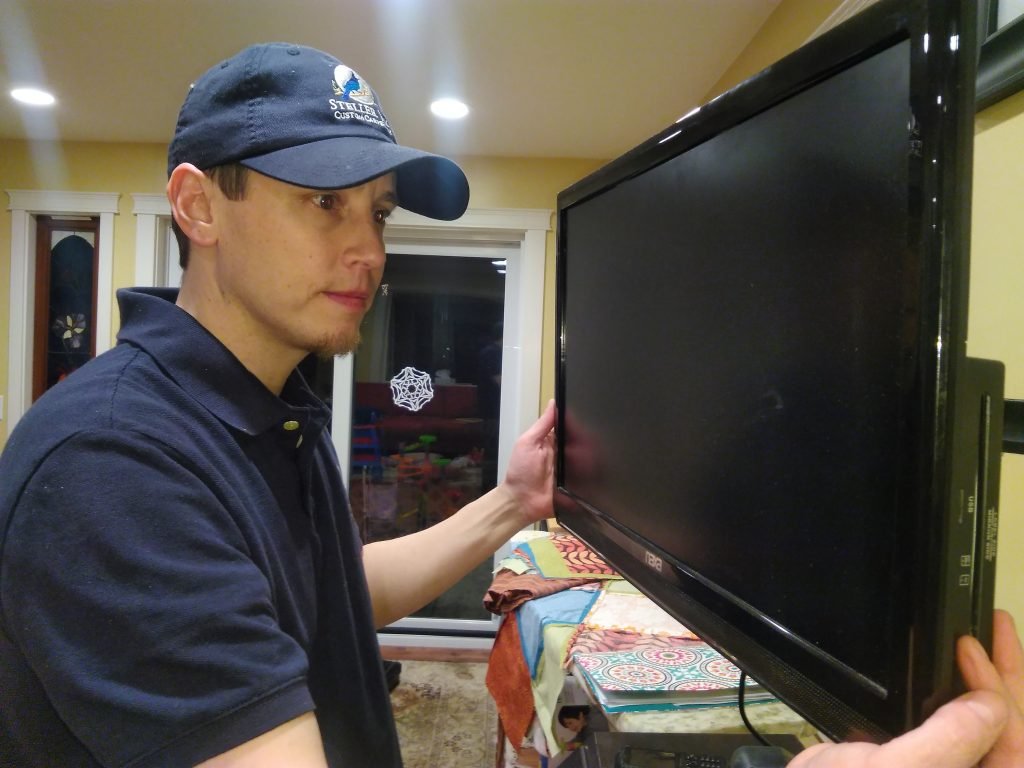 MCALLEN TX, TV MOUNTING SERVICES
Serving McAllen TX & Surrounding Areas
These days, flat screen televisions provide more options for television placement than in years past. As televisions have become less cumbersome and more versatile, many homeowners have decided to mount their T.V. to their wall. Mounted televisions not only save space, opening up a large portion of a room where a large television or entertainment center would usually rest, but they also look great. A mounted television allows for more room to decorate their space with other furniture or objects in place of a T.V. stand.
Most modern televisions are now capable of being mounted, but some homeowners struggle to mount televisions on their own. Mounting a television correctly means it needs to be properly attached to both its mount and the wall studs. If the mount isn't secured to the wall studs and if the television isn't fastened to the mount, the television may fall, perhaps causing damage or even injury.
If you need help installing your television mount on your wall, you can contact a Handyman McAllen professional to mount your television. Our service personnel have ample experience mounting televisions, shelving, photographs and other objects to wall studs, and they can make short work of a television mount.
While installing your wall-mounted television, our technician will also run your power cords and connect your television to your other entertainment devices (DVD player, cable box, etc.). Your Handyman serviceperson will also conceal those cords so they don't make the area looked cluttered.
Give a Handyman McAllen a call today to discuss options for T.V. mounting installation. Our staff can usually perform this procedure relatively quickly, and work around your schedule to find the best time for an appointment.
Flat Screen Installation McAllen TX
In the past, when televisions were large and bulky, homeowners had to decorate entire rooms around their large, awkward sets. Now, with flat screen T.V.s that weigh just a few pounds, mounted flat screen televisions make saving space in the family room easy.
If you need assistance mounting your new flat screen television, a Handyman McAllen is standing by to help. Our Handyman technicians can mount televisions on most common home surfaces, including drywall, brick, or hardwood. Whether you want your flat screen mounted to a living room wall or in a bedroom corner, a Handyman McAllen technician can handle the job.
Call a local Handyman McAllen today and get your flat screen T.V. up and mounted in no time.
MCALLEN TX TV MOUNTING
Every home has at least one television and it is usually placed in the living or entertainment room so the entire family can watch movies, television programs, news, and other forms of media comfortably. Modern televisions are sleek, streamlined, and can easily flow with the design of space if installed correctly. At Handyman McAllen, we provide expert mounting services and will ensure this device is placed at the ideal location.
WHAT CAN WE DO FOR YOU?
Our experienced McAllen TX TV mounting service providers hand-craft every installation to suit the needs of every home. Our experts can mount any brand and any size of televisions that you may have. Here's what you can expect from us:
A Full-service Installation – Tell us the size, brand, and model of your television and we handle the rest. Our technicians provide the equipment, brackets, and other hardware to ensure your television is installed accurately and professionally.
Efficient Processes – We guarantee a quick and efficient installation so as not to cause a disruption. The process takes an hour so long as there are no complications or additional accessories involved.
A Seamless Mounted Television – Incorrectly mounted televisions can disrupt the room's flow with bulky wires and odd positions. Our experts carefully mount your television for a flawless and clean television to match your room's design and flow.
We use the best techniques and equipment to give your home a smart, sleek appearance.
TV MOUNTING SERVICES FOR YOUR MCALLEN TX HOME SYSTEMS
We like to make our services easily accessible to everyone. You don't have to do much to hire an McAllen TX TV mounting expert to complete a quick, professional installation. Here's a look at how we work:
We do not believe in a one size fits all solution for televisions mounts. The design and flow of your rooms are as important to us as it is to you, and that is why we provide custom solutions for our clients.
Handyman McAllen considers your space, style, and themes to design custom installs that match the room's aesthetic. We want the installation and mounted television to contribute to the atmosphere and flow of your room. We don't stop until we ensure that your cables are carefully hidden away for a clean overall appearance.
Your mount's style and appearance are just as important to us as protecting your television and ensuring a clean installation. We take pride in knowing that our hand-crafted designs will suit the style of your home. Let us show you why we are the top choice for McAllen TX home systems!
If you want to know more about our McAllen TX TV mounting service here at Handyman McAllen, don't hesitate to get in touch with us. You can call us or reach us through our contact us form.
LOOKING FOR SOMEONE TO MOUNT TVS?
At Handyman McAllen, our McAllen TX home systems technicians have years of experience. When you book with us, you know you will receive the McAllen TX area's absolute best mounting service.
Most homeowners know that modern TVs are sleek and streamlined, giving you more options than ever on where to place your set. With the help of Handyman McAllen' TV installation experts, you can find the best location for your TV without the hassle of doing it yourself.
Our team of qualified professionals will treat your TV with the utmost care and help you mount your TV quickly and without damage.
If you're interested in learning more about how Handyman McAllen is the best choice for McAllen TX TV mounting, contact us today!
MCALLEN TX'S TOP TV MOUNTING COMPANY
The team at Handyman McAllen is comprised of TV installation experts, and our training and methodology is what sets us apart from our competitors.
With years of experience as a TV hanging service, our team is knowledgeable when it comes to hanging TVs in complicated arrangements.
What sets us apart from the competition are our three core values:
We are full service
We are quick
We perform clean installations
What all three of those traits mean for our clients is a fast, reliable service that takes their needs into account.
Handyman McAllen has experience hanging any and all makes and models of TV. All we need is the information on your TV and where it will go and we can get started right away.
If you're looking for a company you can trust with your next installation project, reach out to us for an estimate today.
Our team at Handyman McAllen knows your time is money, so we perform fast installations that get your TV up and running as fast as possible.
If you are looking to get your TV mounted as fast as possible, we can take the basic information for your installation and get to work right away. With our qualified experts on board, most installations can be completed within an hour given the right tools and information.
We take our clients' timeframes seriously so we work diligently to get your installation project completed on time.
If you want to learn more about how our expert team can get your installation done fast, call us today!
FULL-SERVICE TV INSTALLATION EXPERTS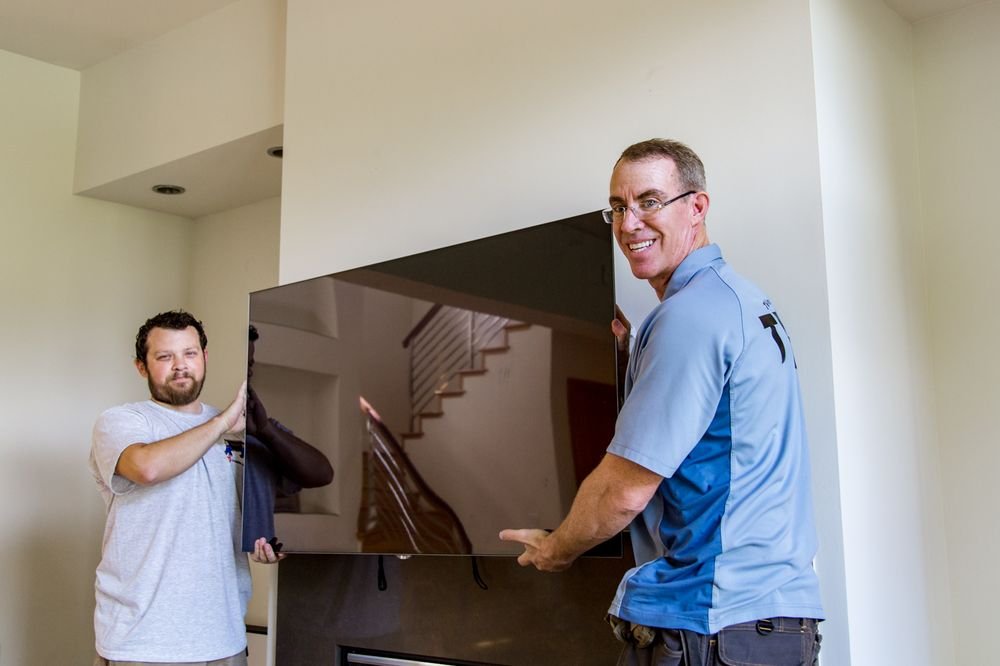 Not only will our team perform your installation fast, but we also provide a full-service McAllen TX TV installation service.
All we need is the size of your TV, brand name and model, and we will be ready right away to help install. Our experts will bring along the right equipment for your install so you don't have to worry about us having the right parts.
Also, if you don't have the proper bracketing hardware for installation, we'll provide that, too.
With all our full-service options available to you, we believe we offer the most reliable, cost-effective option for McAllen TX TV installations.
WE TAKE YOUR SPACE INTO ACCOUNT
All of our skills and experience would come to nothing if we didn't provide custom solutions to our clients.
That's why Handyman McAllen prides itself on taking your space and designing custom installs that are aesthetically pleasing. Our technicians will focus on hiding away any exposed cables during the installation to provide you clear space on your wall or mantle.
Because we value our clients' needs, we will work with you on a custom TV mounting solution that fits your home and needs. With our years of experience in the field, we can offer you installs that don't leave behind unsightly wires to manage.
We take pride in knowing our designs fit into the style of your home. Let us help you install a TV that fits perfectly in your home today!
TV MOUNTING SERVICE BACKED BY EXPERIENCE
Our technicians come with years of experience, which means our company has a well-designed method for your TV installation. With each of our installations, our clients follow a simple three-step process, every time.
First, clients request service through our online form or call us directly to book their service. After we receive a request, one of customer care representatives will schedule a date for you installation. We work hard to ensure that your installation will be performed at the earliest possible time and date.
Next, our technicians go to work, ensuring they arrive at your home with all the tools necessary to complete your installation project. Our team is well trained and will install your television with the utmost care to prevent unwanted damaged.
Have a big TV? No problem. Our team can handle any TV shape or size and install it in no time.
Finally, Handyman McAllen offers a quick and easy payment process for our clients. We provide you with an accurate quote for your installation ahead of time. That means that you know exactly what you will be charged before ever allowing a technician in your home.
After installation, you won't be surprised by a detailed invoice with hidden costs. We pride ourselves on being upfront with our clients, and that means being honest with their quotes.
If you're looking to hire someone to mount a TV with honesty and care, Handyman McAllen is the choice for you.
HIRE SOMEONE TO MOUNT A TV WITH EASE
With all of the experience and knowledge, Handyman McAllen has to offer, we promise that you will receive the absolute best mounting service.
We work fast, efficiently, and with care to ensure that your installation project is done on time and without damage to your home. Our trained team can handle any project, large or small, with custom solutions for your appliances and design spaces.
Not only do we care deeply about our clients' needs, but we also care about ensuring our quotes are transparent and affordable. That dedication to our customers is what sets Handyman McAllen from the competitors.
If you want to know more about why Handyman McAllen is the McAllen TX TV installation experts, contact us today!
How much does it cost to hire someone to mount a TV?
Wall mount installation costs
A simple flat screen TV wall mount that does not require special wiring can run from $80 to $175 to install, while a more standard wall mount can cost $200 to $500. Angie's List members who had TV mounts installed in 2013 reported paying an average of $313, with a range of $250 to $375.
How much does Best Buy charge to wall mount a TV?
Shop our most popular TV and home theater services
TV Services         Regular Price    
TV Connect and Setup    $149.99               
Basic TV Mounting           $149.99               
Premium TV Mounting  $199.99               
TV Calibration    $249.99 
How much does TV wall mounting cost?
October 26, 2021
The national average cost for TV wall mounting is $120, and prices range from $75 to $225. How much you'll pay, however, depends on various factors. But, you can get an accurate estimate by contacting TV wall mount installers near you and asking for free quotes.
If you've got a new TV to set up in your living room, you probably already know you need help to get it mounted properly. It's normal to feel nervous about this task, and pretty common to get someone to help do it right. This is often a job best left to the pros, as they'll have the proper skills to secure the TV properly. Let them do it right, so you can leave concerns behind and simply enjoy curling up with your favorite movie.
What's in this cost guide?
Hourly vs. flat rates
What would a standard TV wall mount cost to install?
Does a tilting TV mount or articulating bracket affect cost?
Does TV size matter?
Will my wall type affect the project cost?
Home theater and surround sound systems
A few factors can affect the cost of professional TV mounting services. Flat-screen TVs of any size can be mounted onto a range of surfaces, including stone, plaster, brick, wood, drywall and concrete. A local professional will be able to tell you if you can use existing electrical outlets in the room, or if you need to consider having a new outlet installed.
Hourly vs. flat rates
Handymen are more likely to offer hourly rates for the service, while TV-mounting companies typically have set fees based on the type of mount and the complexity of the wiring.
Here are some examples of hourly versus set rates:
Handyman business McCarran Handyman Services (http://www.handymanlasvegasnv.com/ ) charges $70–$90 for the first hour, then $9–$11 for every 15 minutes thereafter.
Handyman business 123 Assembly charges $75 per hour or an agreed-upon flat rate for services.
Handyman McAllen TX charges $109 per hour.
Josh's TV Mounting charges a flat rate of $80–$150, depending on the specifics of the job.
What would a standard TV wall mount cost to install?
In many cases, a standard TV mount service means that the client provides the mounting apparatus, and the professional just does the labor of attaching the TV to the wall. Prices generally go up if the pro installs the audio/visual (A/V) wires and connects the TV.
Here's how McAllen TX TV Installation handles pricing:
Basic mount with the A/V wires showing (not installed behind the wall): $50
Basic mount with A/V wires installed in the wall: $69
Does a tilting TV mount or articulating bracket affect cost?
Tilting TV mounts and articulating brackets allow for movement of the TV screen after it has been mounted to the wall. These mounting brackets require additional time, effort and occasionally materials to install and can therefore increase the cost.
McAllen TX TV Installation charges the following for different types of brackets:
Tilting bracket and mounting service package: $70
Articulating bracket and mounting service package: $110
Does TV size matter?
TV size, as well as TV weight, can affect the overall cost of mounting. However, many companies charge an hourly or flat rate per TV as opposed to basing their fees on TV size. It's a great question to ask when you first contact a pro, just to check how they handle their pricing.
Will my wall type affect the project cost?
The type of walls in your house can affect the cost of any work done. Brick, concrete and stone all present more labor—especially if you want in-wall A/V cord installation. Your living room wall may be easy or difficult for TV wall mount installation, so getting some professional advice is worthwhile. In general, harder wall surfaces cost more for TV mounting services than a softer surface such as drywall. However, no matter the wall type or associated cost, all mounted TVs can be very heavy. Even if you usually like to handle small projects yourself, this is a job for the pros.
Home theater and surround sound systems
Homeowners with home theaters, surround sound systems, or extensive media components who need their A/V cords reattached and all the components wired together may pay a higher fee. These kinds of jobs may require a more technically skilled A/V expert. We'd recommend chatting with a local service provider. They may even offer a free estimate for the work you have planned.
FREQUENTLY ASKED QUESTIONS ABOUT TV WALL MOUNT INSTALLATION SERVICE
When it comes to TV wall mount installation service, you're not alone if you find yourself with unanswered questions. In fact, here at Gulf Coast Installs, our clients often call us up with questions about our services, so today we're going to try to save you some time and answer those questions for you right here!
TV WALL MOUNT INSTALLATION SERVICE FAQ'S
HOW SOON CAN YOUR TECHNICIANS INSTALL MY WALL MOUNTED TV?
The answer to this questions depends on a number of factors, but the sooner that you call us, the sooner we will be able to get your TV installed! We strive to set you up with an appointment as soon as we can, but the more flexible you are with your schedule, the sooner we will be able to get your installation done!
CAN I ORDER MY TV WALL MOUNT INSTALLATION SERVICE ONLINE?
Not at the moment, but we hope to be able to offer you the ability to place your installation order online in the future! You can request a free quote for your installation service online, however, and we will get right back to you! If you're in a hurry, though, we recommend picking up the phone and giving us a call at (239)-682-1077 for a faster response time!
HOW LONG DOES TV WALL MOUNT INSTALLATION SERVICE TAKE?
Again, this really depends! It depends on where you want the TV installed, the size of your TV, the surface the TV is being wall mounted onto, whether you want the wiring hidden behind the wall… If you'd like an approximate time for the duration of your appointment, just request it with your online quote request or ask us when you call!
WHAT IF I NEED SOMETHING ELSE DOING IN ADDITION TO MY INSTALL?
If you need add-on services with your TV wall mount installation, just let us know! We offer a range of add-on services that can be tacked on to your installation package, we can help you with your cables, your speakers or stereo components, and we can even help you with the installation of non-TV related installations! Our talented technicians offer other install services too including artwork hanging, custom built cabinets, window blind installation, and window treatment installation! If it can be installed, our technicians can do it, just ask us when you call and we'll get you set up for whatever you need.
DO YOU OFFER SPECIALS, COUPONS, OR DISCOUNTS ON YOUR TV INSTALLATION SERVICES?
We frequently offer installation specials when you have more than one TV installed in your home. If you're interested in finding out about our current discounts, specials, or coupons, just remember to ask when you call and we'll let you know what our most current offer available is!
DOES THE COST OF MY WALL MOUNTED TV INSTALLATION INCLUDE THE PRICE OF THE BRACKET FOR MOUNTING?
No, but we can help you select the right mount if you give us a call and let us know that you need help finding a bracket for your TV installation. Prefer to shop around and find one yourself? No problem, just be sure that you check all the right boxes when you're shopping for one!
If your mount is for outdoors, is it an outdoor rated TV mount?
Is your TV mount a tilt only mount or do you want a full-motion TV mount?
Is your TV mount the right size for your TV?
Is your TV mount rated for the weight of the TV you will have mounted?
WHERE IS THE BEST PLACE FOR MY WALL-MOUNTED TV?
The answer to this question will vary based on your TV size, TV shape, and the available wall space in your home. Our TV installation experts will be able to help you to determine the right space for your TV wall installation based on the factors noted above as well as the lighting in your home, possible glare from windows, and the viewing area around the installation space.
If you'd like to try and decide on the right installation space before you call us here are a few tips:
If your TV will be watched often during the daytime, ensure that there isn't a constant glare from a nearby window that makes seeing the screen difficult. You can use blackout curtains if you have no other placement options, but it makes for a friendlier home to maintain daylight in your home during the day!
Consider where you want to place your TV in relation to the seating space that you have available in the room. You can solve some viewing concerns by using a full range of motion TV mount, but you should also consider the placement of your furniture in relation to the room layout. You want to maintain a nice balance to your home's layout, after all.
Look at the size of your TV and the wall space you plan on mounting it on. If your TV greatly overwhelms your wall it will create a crowded appearance in your room and may also make watching TV difficult. You should always be sure to leave a comfortable distance between your TV screen and your seating to avoid neck strain, eye strain, and headaches.
IN SEARCH OF A PROFESSIONAL FOR YOUR TV WALL MOUNT INSTALLATION SERVICE?
If you're in the southwest Florida area and are ready to leave your TV wall mount installation service in the hands of a true professional, give us a call!
WHY CHOOSE HANDYMAN MCALLEN?
Transparent Estimates. We strive to be up front about your system and the parts needed to deliver the result you want. No hidden pricing, and products are itemized.
Communication Is Key. We make ourselves accessible to answer questions and offer any help you may need. Contact us via calling, texting or emailing. We won't leave you hanging!
High Quality Installation Standards. All of our technicians are experienced and employed by Handyman McAllen. We take pride in our work and deliver a clean, professional result.
Work Clean Policy. Our policy is to leave your home as clean as we find it. Our installation standards are to always clean up after our work, and to protect your home and furniture.
We Consider Ourselves Educators In Technology. We offer full system tutorials, and support after the sale.
Alamo TX TV Wall Mount Service
Alton TX TV Wall Mount Service
Brownsville TX TV Wall Mount Service
Donna TX TV Wall Mount Service
Edcouch TX TV Wall Mount Service
Edinburg TX TV Wall Mount Service
Elsa TX TV Wall Mount Service
Granjeno TX TV Wall Mount Service
Harlingen TX TV Wall Mount Service
Hidalgo TX TV Wall Mount Service
La Joya TX TV Wall Mount Service
La Villa TX TV Wall Mount Service
McAllen TX TV Wall Mount Service
Mercedes TX TV Wall Mount Service
Mission TX TV Wall Mount Service
Rio Grande City TX TV Wall Mount Service
Raymondville TX TV Wall Mount Service
Palmhurst TX TV Wall Mount Service
Palmview TX TV Wall Mount Service
Penitas TX TV Wall Mount Service
Pharr TX TV Wall Mount Service
Progreso TX TV Wall Mount Service
Progreso Lakes TX TV Wall Mount Service
San Juan TX TV Wall Mount Service
Sullivan City TX TV Wall Mount Service
Weslaco TX TV Wall Mount Service​
HANDYMAN MCALLEN
REQUEST FREE INFORMATION NOW. CLICK HERE!